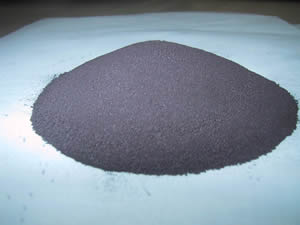 Magnetic Compound for Dry Pressing Ferrite Magnet
Strontium Dry Pressing Ferrite Magnetic compound are suitable for producing magnets by dry pressing.
Which have been added proper quantity of binders and lubricants. And pass through 120 mesh sieve,so as binders to be uniformly distributed for better orientation.we could supply the compount in both spray dried or vibration granulated form .
Characteristics of products

Testing Method
Br(mT)
bHc(kA/m)
iHc(kA/m)
(BH)max(kj/m3)
Granularity
( )
Typical
Min
Typical
Min
Typical
Min
Typical
Min
YXF-1
BaFe12O19
150
140
95.5
87.5
183
167

2.0 ~ 4.0

Green piece
YXF-2
BaFe12O19
180
175
119
115
183
167
1.1 ~ 1.4
Green piece
YXF-2b
BaFe12O19
180
175
111
107
151
143
1.5 ~ 1.8
Green piece
YXF-2c
BaFe12O19
180
175
111
107
151
143
1.8 ~ 2.1
Green piece
YXF-2S
SrFe12O19
180
175
119
115
183
167
1.1 ~ 1.4
Green piece
YXF-2Sb
SrFe12O19
180
175
111
107
159
143
1.5 ~ 1.8
Green piece
YXF-2Sc
SrFe12O19
180
175
111
107
159
143
1.8 ~ 2.1
Green piece
YXC series Dry Pressing Strontium Ferrite Material Properties
Type

Br

Hcb

Hcj

(BH)max

Sintered density

Grade

mT

Gs

KA/m

Oe

KA/m

Oe

KJ/m3

MGOe

P(g/cm3)

YXC-C1T

230

2300

150

1880

240

3010

9.50

1.19

4.6+/-0.2

YXC-C2T

230

2300

155

1950

278

3500

9.60

1.20

4.6+/-0.2

YXC-C3T

210

2100

150

1880

350

4400

9.00

1.13

4.6+/-0.2

YXC-C1

370

3700

215

2700

231

2900

24.6

3.08

4.6+/-0.2

YXC-C2

385

3850

219

2750

231

2900

26.0

3.27

4.6+/-0.2

YXC-C3

395

3950

231

2900

235

2950

28.8

3.60

4.6+/-0.2