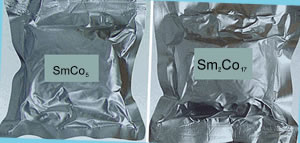 Samarium Cobalt holds its standard property in higher maximum temperatures than neodymium,although its maximum strengh is less. The cost of SmCo material is the most expensive,so SmCo is recommended only when its performance is a high temperature environment is a concern. The characteristics of Samarium Cobalt Magnet
Very high magnetic properties with good stability.
Superior resistance to high temperature,Curie temperature of majority is over 800
Excellent corrosion resistance capability,no coating is needed for surface protection.
Typical Magnetic Porperties of Samarium Cobalt Materials Properties of SmCo Powder
Grade

Residual Flux Density Br

Coercive Force Hcb

Intrinsic Coercive force Hcj

Max. energy product (BH)max

mT

kGs

kA/m

koe

kA/m

koe

kJ/m3

MGoe

SmCo-YX6

500~600

5.0~6.0

≥358

4.5~5.5

≥960

≥12.0

47~72

6~9

SmCo-YX10

600~700

6.0~7.0

≥438

5.5~6.5

≥1200

≥15.0

64~88

8~11

SmCo-YX12

700~750

7.0~7.5

≥520

6.5~7.3

≥1591

≥20.0

96~120

12~15

SmCo5-YX16

750~880

7.5~8.8

597±40

7.5±0.5

≥1591

≥20.0

127±16

16±2

SmCo-YX16A

750~880

7.5~8.8

597±40

7.5±0.5

≥1989

≥25.0

127±16

16±2

SmCo-YX16B

750~880

7.5~8.8

597±40

7.5±0.5

≥2386

≥30.0

127±16

16±2

sm2co17-YX18

800~930

8.0~9.3

637±40

8.0±0.5

≥1194

≥15.0

143±16

18±2

SmCo-YX18A

800~930

8.0~9.3

637±40

8.0±0.5

≥1591

≥20.0

143±16

18±2

SmCo-YX18T

800~930

8.0~9.3

637±40

8.0±0.5

≥1591

≥20.0

143±16

18±2

SmCo-YX18B

800~930

8.0~9.3

637±40

8.0±0.5

≥1989

≥25.0

143±16

18±2

sm2co17-YX20

900~980

9.0~9.8

637±40

8.0±0.5

≥1432

≥18.0

159±16

20±2

SmCo-YX20

900~950

9.0~9.5

≥670

8.5~9.2

≥1591

≥20.0

159±16

20±2

SmCo-YX20A

900~980

9.0~9.8

637±40

8.0±0.5

≥1989

≥25.0

159±16

20±2

SmCo-YX22

900~1030

9.0~10.3

653±40

8.2±0.5

≥1432

≥18.0

175±16

22±2

SmCo-YX22A

900~1030

9.0~10.3

653±40

8.2±0.5

≥1989

≥25.0

175±16

22±2

SmCo-YX24

950~1080

9.5~10.8

676±40

8.2±0.5

≥1432

≥18.0

191±16

24±2

SmCo-YX24A

1000~1100

10.0~11.0

676±40

8.2±0.5

≥1989

≥25.0

191±16

24±2

SmCo-YX26

1000~1130

10.0~11.3

357~516

4.5~6.5

413~556

5.0~7.0

207±16

26±2

YX26A

1000~1130

10.0~11.3

716±40

9.0±0.5

≥796

≥10.0

207±16

26±2

YX26B

1000~1130

10.0~11.3

716±40

9.0±0.5

≥1194

≥15.0

207±16

26±2

YX26C

1000~1130

10.0~11.3

716±40

9.0±0.5

≥1591

≥20.0

207±16

26±2

YX26D

1000~1080

10.0~10.8

≥732

9.0~10.5

≥2300

≥30.0

207±16

26±2

SmCo-YX28

1060~1180

10.6~11.8

357~516

4.5~6.5

413~556

5.0~7.0

223±16

28±2

SmCo-YX28A

1060~1180

10.6~11.8

763±40

9.6±0.5

≥796

≥10.0

223±16

28±2

SmCo-YX28B

1050~1150

10.5~11.5

≥750

9.4~9.8

≥960

≥12.0

223±16

28±2

SmCo-YX28C

1060~1180

10.6~11.8

763±40

9.6±0.5

≥1194

≥15.0

223±16

28±2

SmCo-YX30

1100~1200

11.0~12.0

438~597

5.5~6.5

454~597

5.7~7.5

238±16

30±2

SmCo-YX30A

1100~1200

11.0~12.0

≥560

7.0~8.5

≥716

≥12.0

238±16

30±2
Characteristics & application of SmCo permanent magnet